Pottsville House
This spectacular hilltop retreat is completely off the grid, with panoramic views to Mount Warning
A spectacular hilltop retreat, this pavilion-style house on a bushfire site is completely off the grid.
Conceptualised as a relaxing retreat for family and friends, the series of pavilions can be opened or closed off depending on the space needed.
By dissolving indoor/outdoor boundaries, the home sits beautifully within the landscape. Terrain wraps around and through the house, maximising views, ventilation and passive environmental design features. Facade treatments, orientation, a Bushfire Attack Rating of BAL29 and a requirement to be off-grid have played a fundamental role in generating the design concept and materiality of the house.
A central circulation axis acts as a passive ventilation stack with solar chimneys along its length maintaining a comfortable internal temperature year round. Rammed earth walls – using earth from the site itself – create a heat/cool sink and a natural fire retardant – an essential feature for this bushfire site. The walls are also a visually stunning centrepiece to the house.
Project details
Status
Due on Site 2020
Project Type
New Build House
Location
Pottsville, Northern NSW
Floor area
450sqm
Photography
TBC
Design Team
Boyd Bay Environmental, Apex Consultants, Sprout Landscape Design
Construction Team
Inform Constructions
Key Products
Coreten, Timber, Conrete & Glass
Conceptual resolution
Early conceptual explorations of the Pottsville House established critical relationships that have been retained in the final design. A strong central axis with views to trees beyond, intriguing courtyard entry and a series of interlocking spaces that all connect to the landscape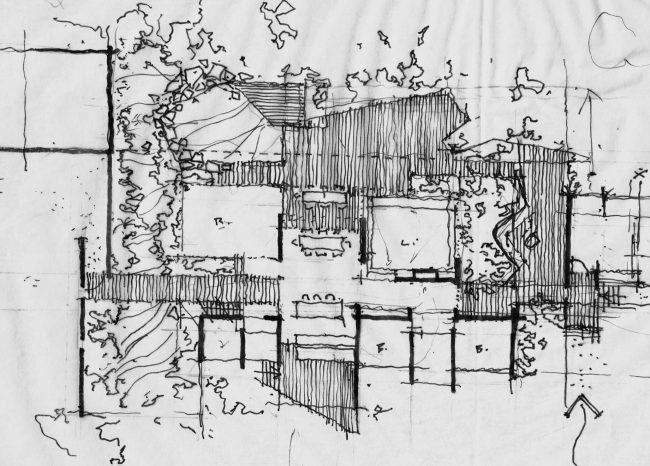 Siting
Sitting at the top of the site the Pottsville House is incredibly exposed and we wanted to drive a highly passive approach to the design so very early understanding of the conditions were critical to the ultimate outcome for the project